Harajuku Taphouse
A Craft Beer Izakaya Restaurant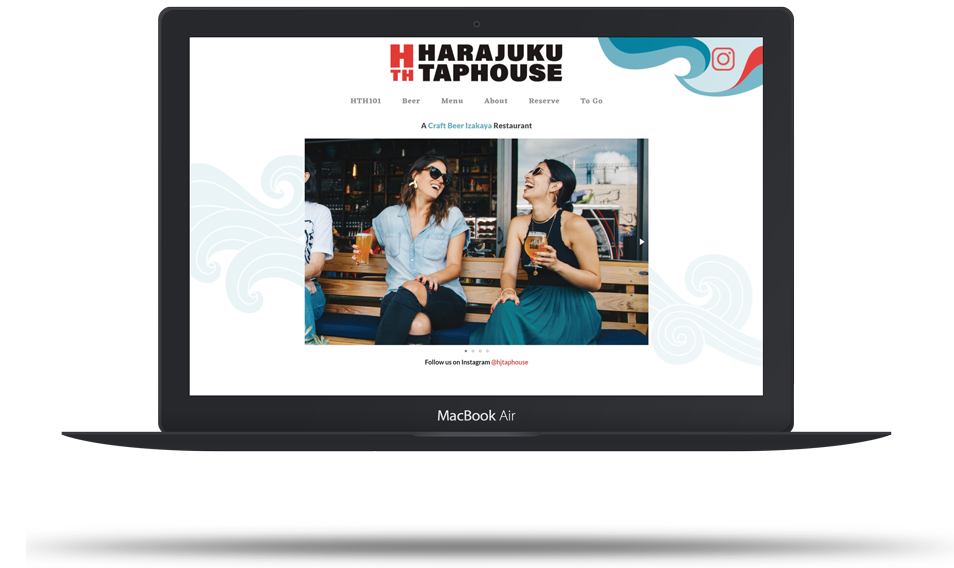 Challenge
For my web design class we were tasked to redesign the website of a local Los Angeles restaurant. I chose Harajuku Taproom in Culver City. My goal was to improve the organization of information and to better represent the mood and style of the restaurant. For the purposes of this class, I changed the name to Harajuku Taphouse.
Role
Web Design, Research, Visual Design, Prototyping
Timeline
March 18, 2019 – June 02, 2019
Tools
Sublime, Html, CSS, Illustrator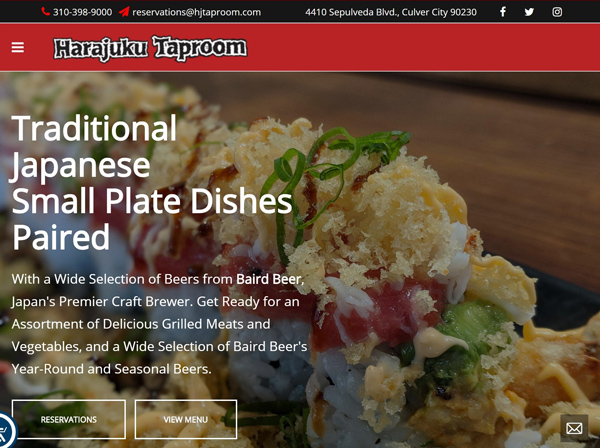 Project Goals
Reorganize information for improved usability
Emphasize Japanese influence and beer selection
Update visual design to be more approachable
Rebrand business name and logo
Create a 5-page deliverable prototype
I chose this website because I thought I could improve the navigation organization and introduce a more contemporary visual identity.
Competitive Research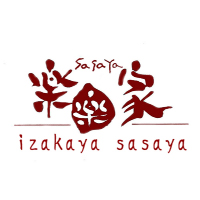 Authentic
Dated visual design
Online ordering available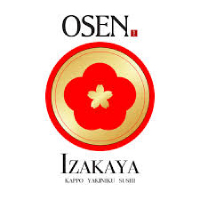 Focus on high caliber chef
Modern, artistic visuals
No online ordering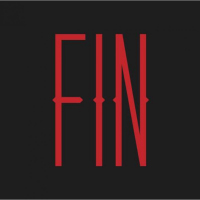 Upscale Vibe
Table booking call to action
Online ordering available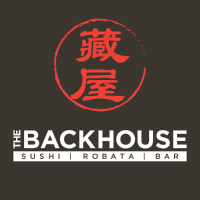 Jumpy navigation
No online ordering
Insights
I researched other Izakaya style restaurants in Los Angeles. Competitors play up the authenticity or the caliber of the food. Harajuku Taproom should stand out by better visually reflecting their modern Japanese inspiration as well as calling attention to their unique beer offerings.
Target Audience
Happy Hour Crowd
Families
Food Connoisseurs
Because of the beer selection and small plate menu offerings, the happy hour crowd is the primary target audience. The moderate pricing and casual atmosphere is also a selling point for families. Lastly, the Japanese fare makes it appealing to food connoisseurs, especially with its trendy Culver City location.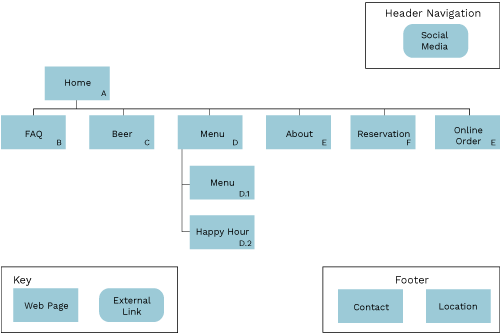 Proposed Sitemap
Keeping the navigation on the same level and eliminating duplicated information will make the user exerience more straightforward. Keeping a call to action for online orderng and reservations will make it easier for busy users to get what they need.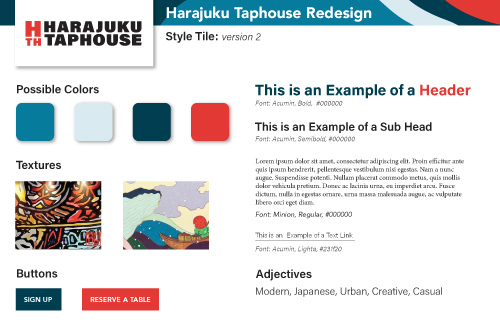 Proposed Style Tile
The red is a carryover from the current identity, but with a more contemporary feel. The logo is modernized and the wave header theme is inspired by the Japanese murals painted on the side of the restaurant exterior.

Wireframes to Comps
The layout evolved quite a bit fromt the orignal wirefreamse. Using the existing beer labels had an interesting look, but still felt too cluttered for the more contemporary identity. I moved to minimize their presence and use icons to indicate styles of beer.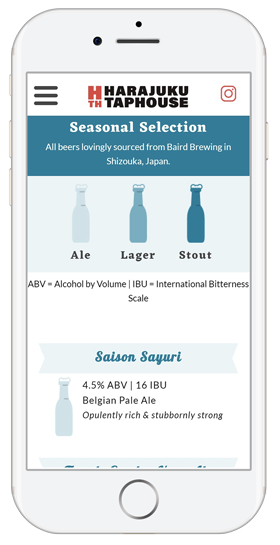 Mobile View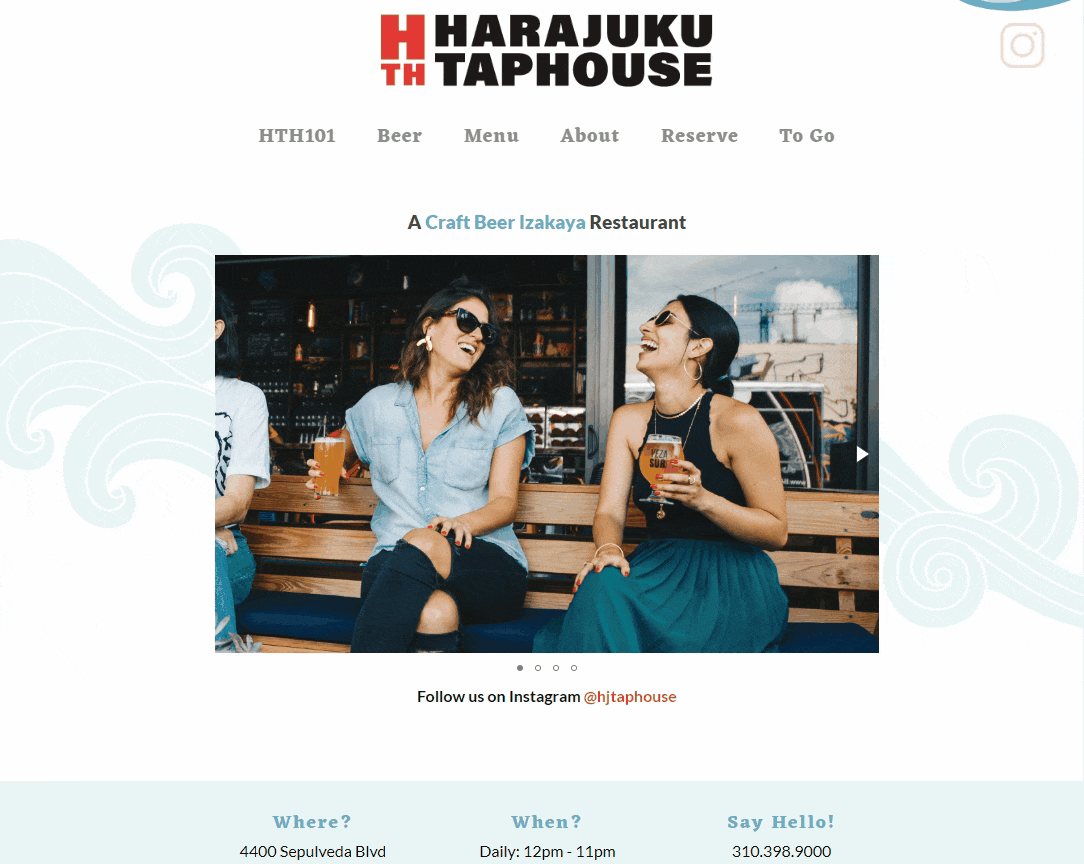 Desktop View
The desktop site is a one page scrolling site. It features a simple, informative section dedicated to explaining izakaya style food and craft beer to new patrons.
Reflections
The final prototype for Harajuku Taphouse is contemporary and easy to navigate. It was a challenge to create the prototype without use of any responsive framework, but it forced me to think about how to translate my visual concepts into a working structural form. Sometimes I had to compromise my goals with what works with what was best for the project needs. This was a great learning project which I believe had a successful outcome.