Tai Chi For Health
Meditation in Motion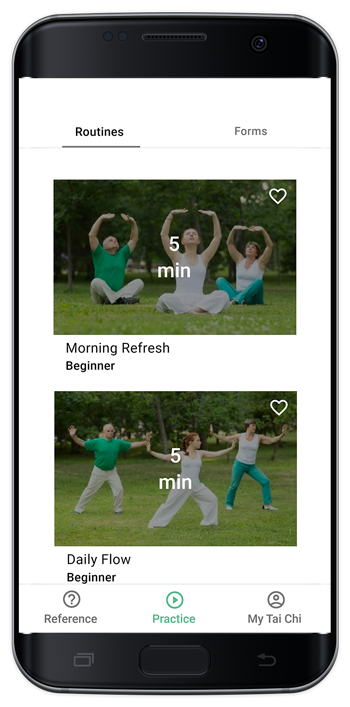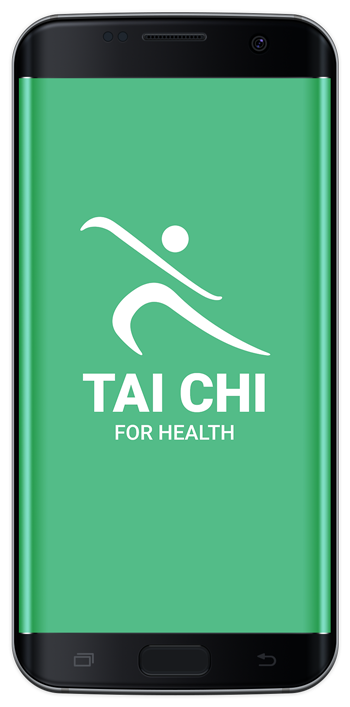 Challenge
The challenge was to redesign a mobile app of my choice excluding gaming, finance management, and training. I chose the android app, Tai Chi for Health. I was inspired by my personal interest in learning Tai Chi as well the desire to improve the usability and visual mood of the app. The result was a reimagined mobile app prototype.
Role
Research, UX, Prototype, Mobile Design
Timeline
April 18, 2019 – June 09, 2019
Tools
Illustrator, Adobe XD, Paint 3d, Procreate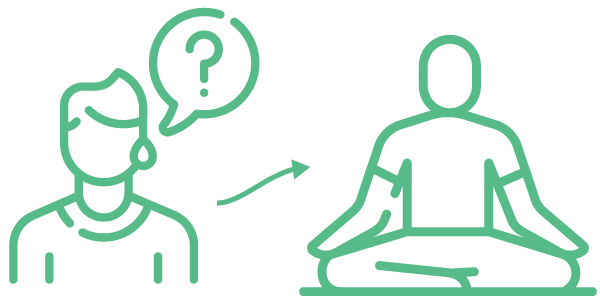 Problem
We have observed that the disorganization of the current Tai Chi instructional mobile app conflicts with the expectations of the user.
How might we simplify the organization of information and create an experience that educates as well as relieves stress?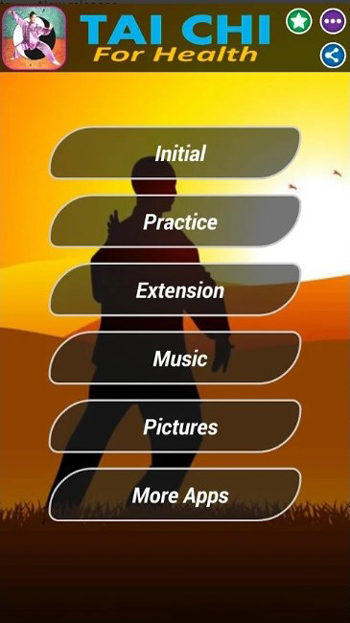 What Works
In-app videos showing front and side technique
What Doesn't Work
Visual design is overwhelming
Navigation is unclear
Unnecessary written content
Excessive advertisements
Objectives
Eliminate unnecessary content
Streamline the visual design
Reorganize content to focus on most desired features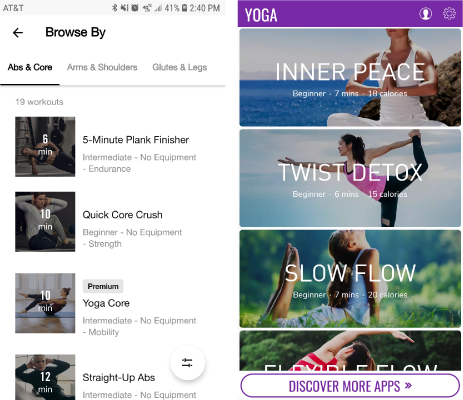 Comparative Analysis
Popular yoga and fitness apps use larger visuals making it easier to choose your navigation.
Target Audience
Older Adults
Stressed Busy Professionals
Injured Fitness Enthusiasts
Empathy Maps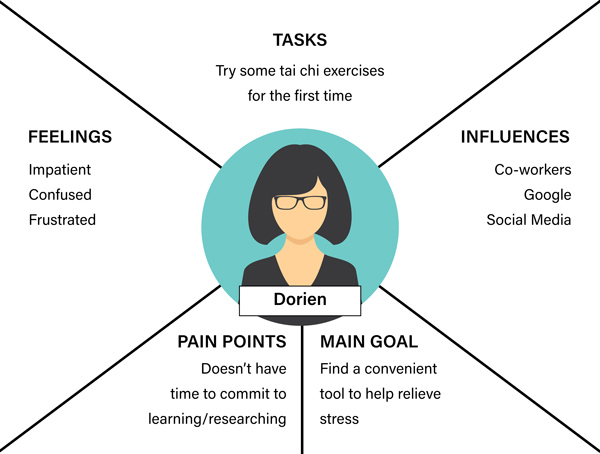 This empathy map reflects the motivations behind the stressed professional user group.
Storyboards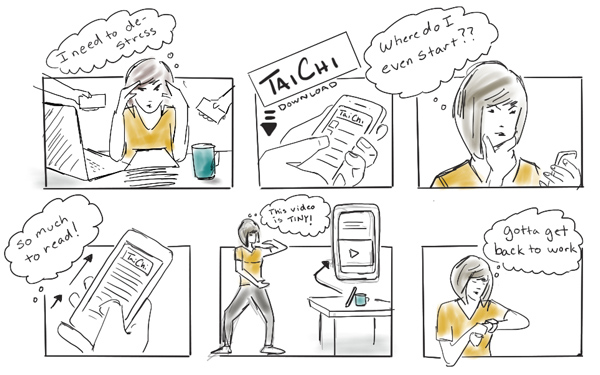 Imagining how Dorien might try to fit in some Tai Chi at work and struggle to find where to even start indicates she might close the app before she even has a chance to use it.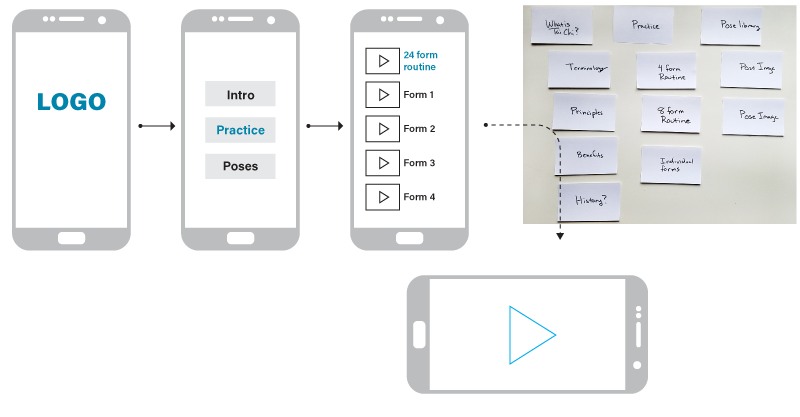 I want to do: View practice videos
Visual Flow
Card sorting was based around micro-moments, imagining how a user could easily navigate when they want to "know" or "do" something, illustrated in the visual flow.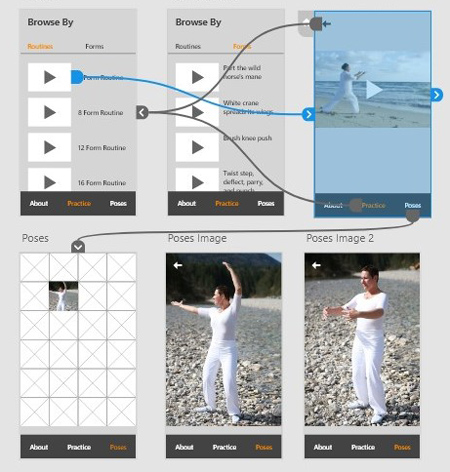 Low Fidelity Prototype
Early Testing
Testing the early prototype with a few users gave valuable feedback before I invested time into a more detailed design
Francisco Link to Test
Occupation: Student
Mobile Device: iPhone
Familiarity level of Tai Chi: low
Insights
initial get started or walkthrough feature could be helpful
More meta information next to the videos such as duration would be useful for personal filtering
The Tai Chi Term "forms" is initially confusing and may lead a user to think they have to fill something out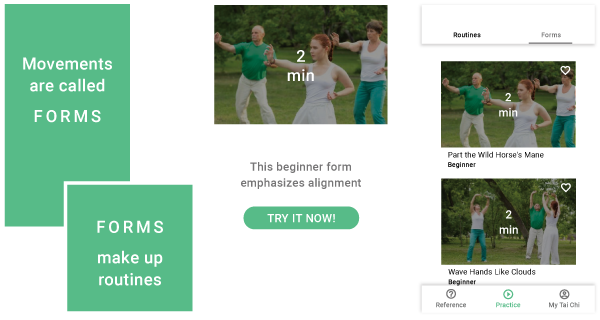 Iteration
Based on insights from testing I added a brief onboarding to explain key terms, a call to action to engage users more quickly and informative metadata to help guide users through the experience.

Microinteractions
To add to engagment, there are a number of animated microinteractions triggered by user actions throughout the app. All of these moments will help the provide feedback and increase the feeling of interactivity.
Reflections
This project highlighted the value of simplicity in design. The original app was made by someone who loved Tai Chi which showed in the amount of information that was included in the app. However, so much information will never be digested if the user doesn't engage because they are overwhelmed or lost. I tried to practice simplicity and focus on the primary needs of the user.