Go Griffith
Know Before You Go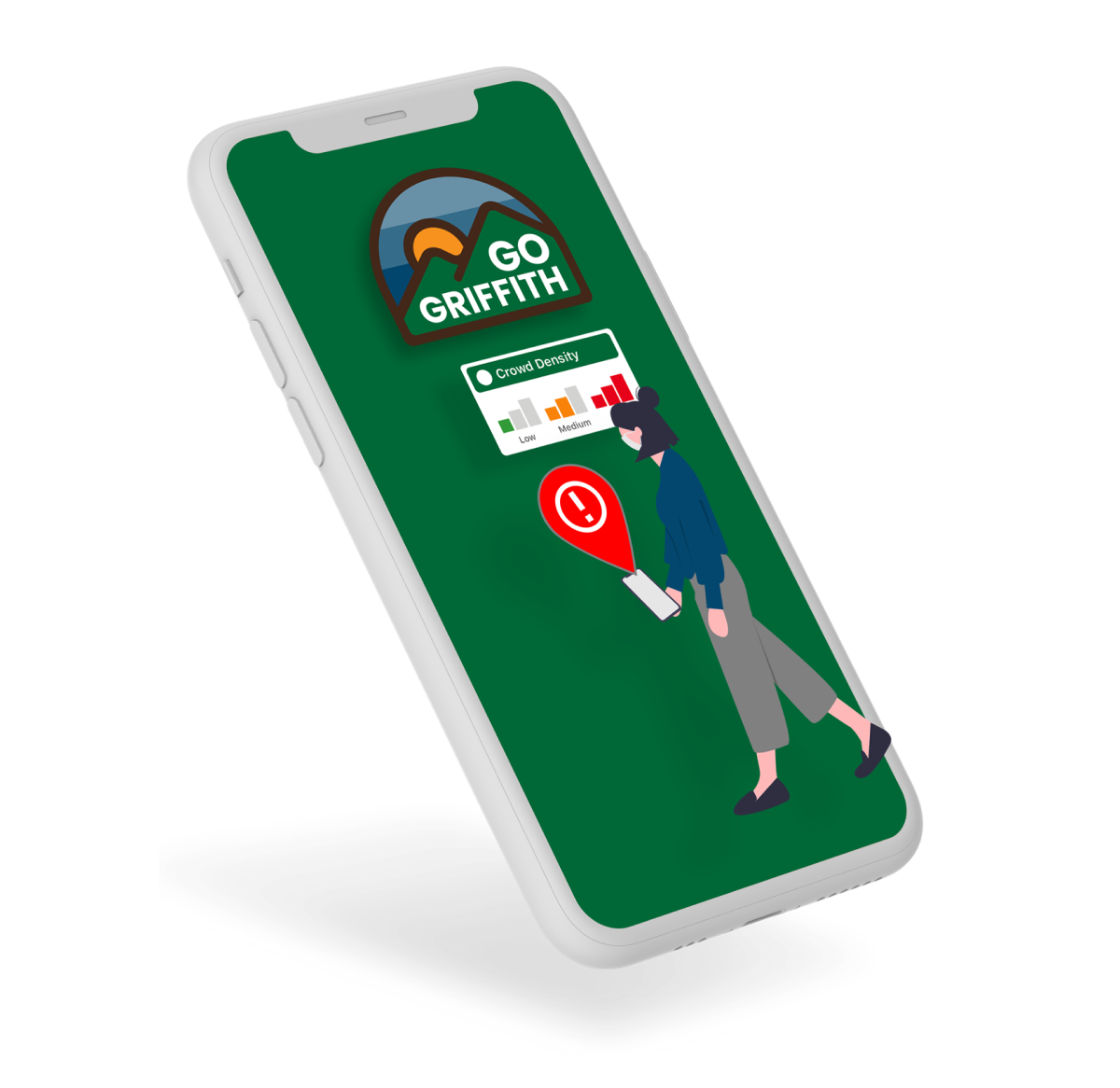 Challenge
COVID-19 has had a significant impact on the mobility of Los Angeles residents. Our challenge was to focus on a specilic location in the city to determin how we could improve mobility in a post COVID LA. Our team chose Griffith Park, a public outdoor space and focused on how usage of the park had been affected since the onset of the pandemic. Natural spaces have had significant importance physical and mental well-being during this global crisis and we wanted to see how we could help people have safe access to them.
Role
Team Lead, Prototype Design, Research & Testing
Timeline
August 28 – Present
Tools
Adobe Aero, XD, After Effects, Ilustrator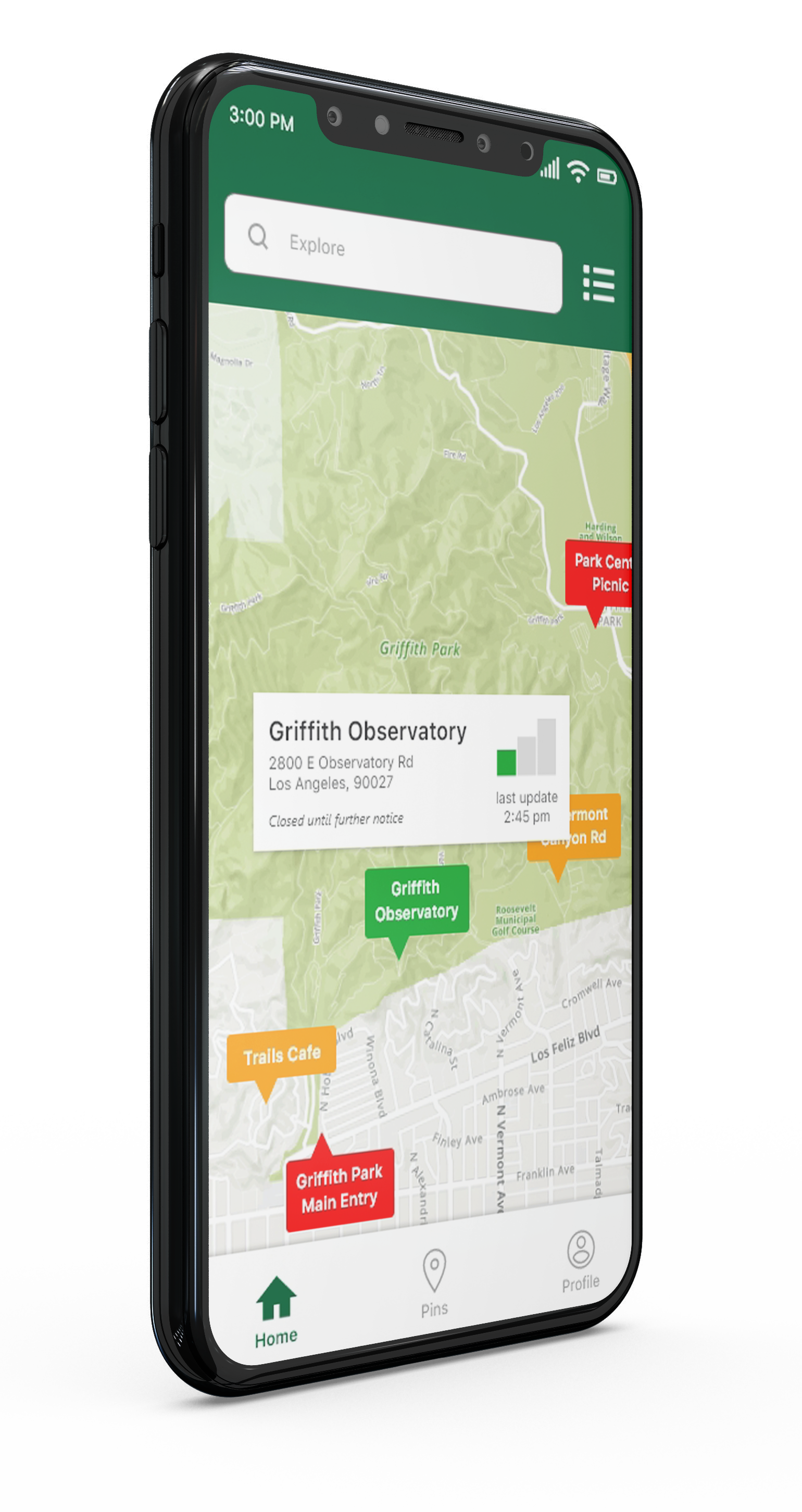 HOW MIGHT WE
help people predetermine COVID-19 risk when visiting Griffith Park to minimize uncertainty and make informed decisions about their visit?
Go Griffith provides crowd density information for the visitors of Griffith Park to make informed decisions and enjoy nature safely. Users can browse location information, pin locations and be notified of changes, view real-time metrics based on camera data, and experience crowd density simulations.
See the video walkthrough below for a more complete overview.
Download Prototype Presentation
Process
Below is a working log of our process and presentations. Go Griffith is currently a work in progess. Please reach out if you have feedback.
Say Hello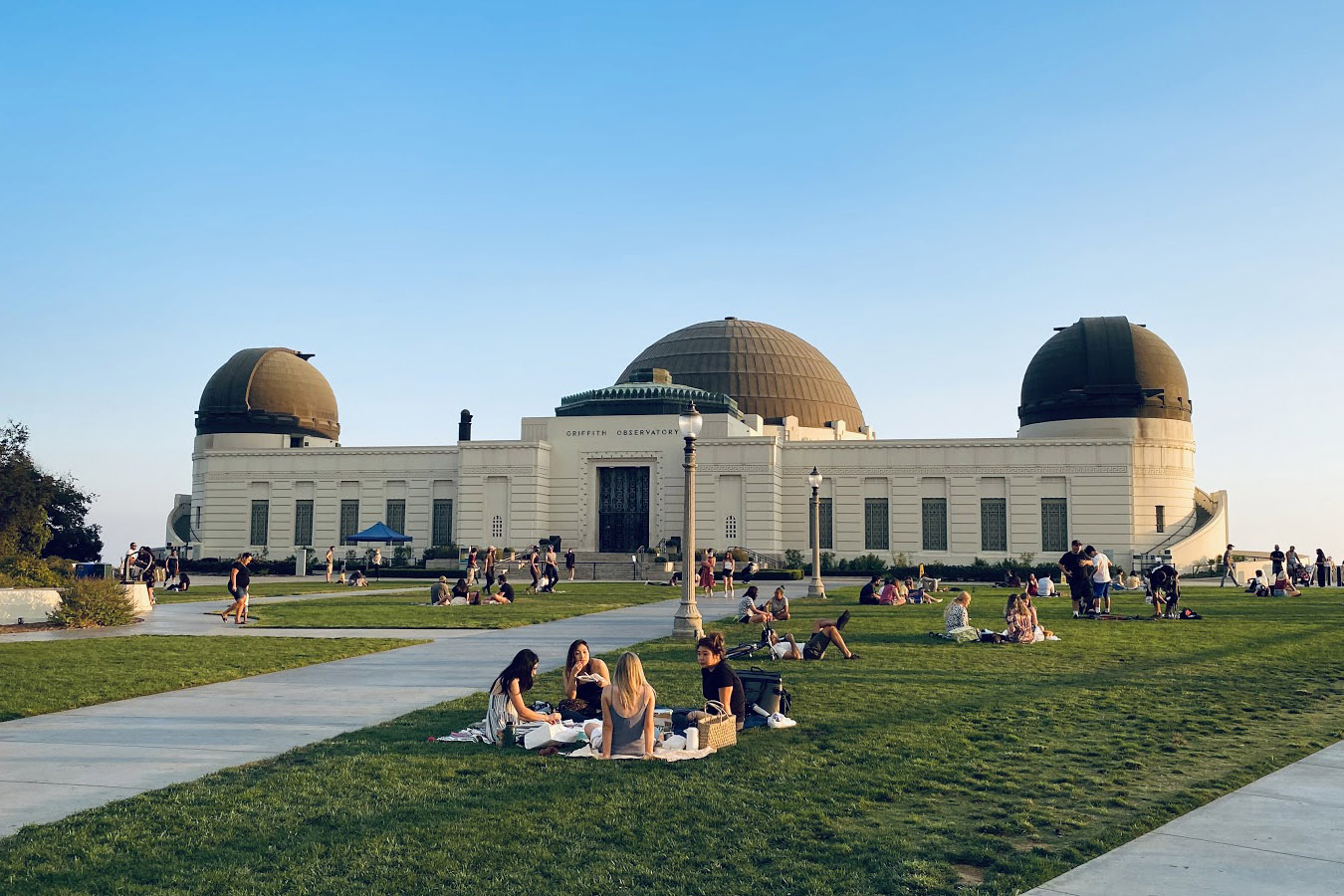 Our design challenge centered around transportation and mobility in a post COVID Los Angeles. The brief tasked us "to create an interactive system that solves transportation and mobility issues within a city center. It must be based on research, where you find an example of a system that suffers from a severe design issue that your team will help solve." After scouting various locations throughout Los Angles, my teammates Cianna, Joey, Ruben and I narrowed in on Griffith Park. We wanted to focus on and outdoor location as we felt the availability of these places during COVID is crucial yet they are likely overlooked with regards to regulation and policy. We performed and documented onsite observation and interviews to gain a better understanding of current obstacles to further narrow down our project focus.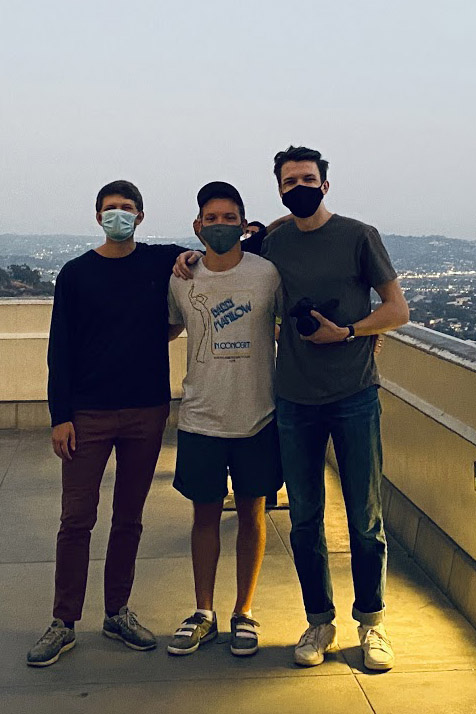 After taking a deeper dive into researching Griffith Park, we sought out additional interviews, sent out surveys, and posted on social media forums. Our goal was to understand the experience that a person has planning a trip to Griffith Park, how they felt during their visit, and to find areas for improvement. Our biggest takeaway was that everyone has a unique and personal metric for feeling safe and is creating their own strategy and process for finding the right time or way to visit outdoor spaces like Griffith Park.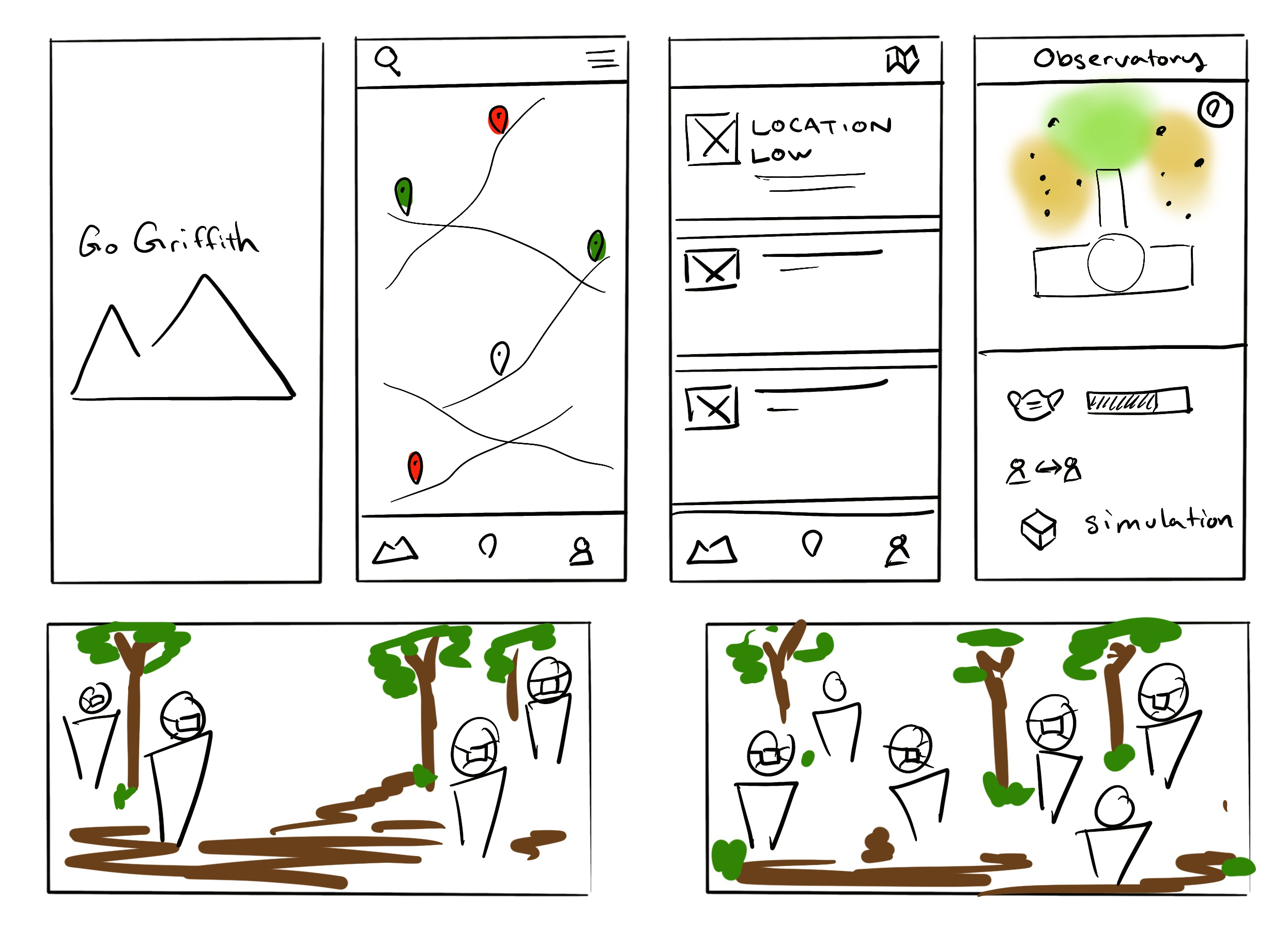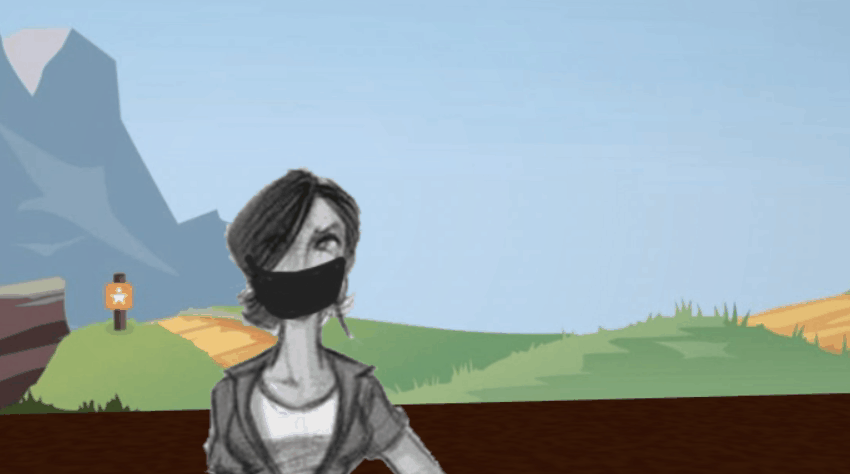 For our midterm presentation, we developed personas and journey maps to inform our concept ideation. Each team memeber offered unique solution ideas and together we edited them into one cohesive idea. The core of our concept is a real time crowd density tool. By providing people with more relatable ways to pre-visualize an outdoor space before they go, we hoped to give them a sense of control and in turn mitigate the stress surrounding the experience.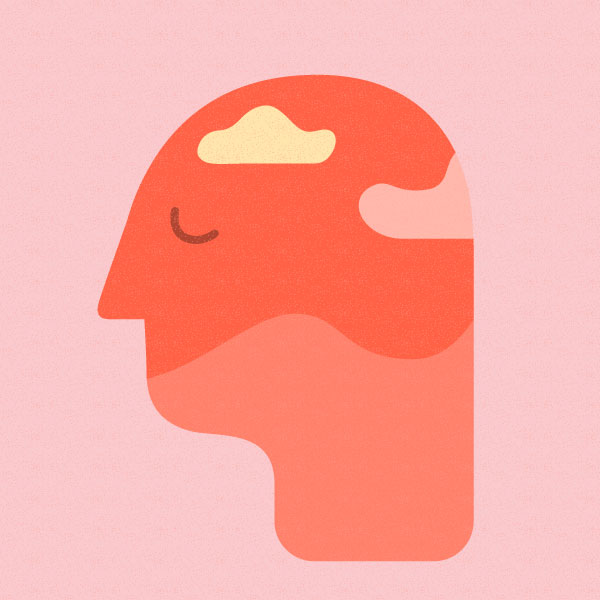 Griffith Park Presentation Reflection
As a team we felt our research and concept presentation had a solid narrative with a clearly defined problem and solution. After we presented, it was clear there were concerns about privacy surrounding the type of data our solution intended to gather and share. This caught us by surprise and we realized that perhaps how we presented our concept was not clear. We showed images of smart camera data with the intent to translate it into shareable metrics. The images may have conveyed the notion that we intended to share the visual camera data on our app.
Additional feedback surrounded some of our additional feature ideas such as an on-site kiosk. We were advised to keep our idea focused and also be considerate of shared touchable interfaces during COVID.
In all, we felt that we needed to have a more solid understanding of the type of data we would collect and how to be protective of personal privacy in creating our solution.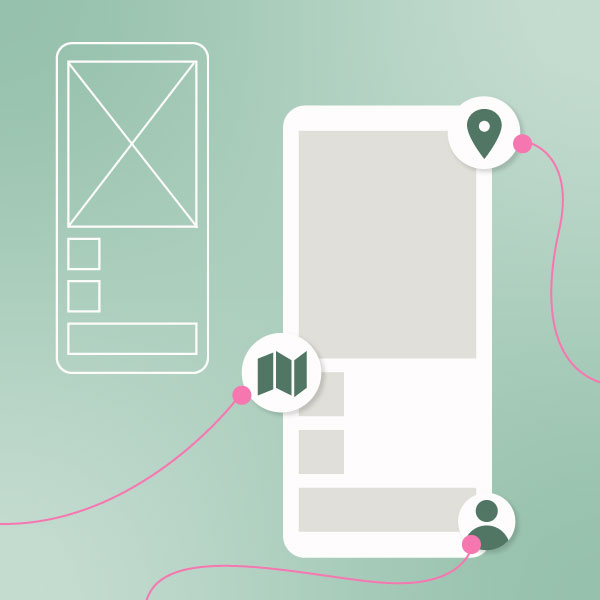 In the two weeks after our midterm presentation, we got to work ideating on our prototype. We started with a concept poster to answer provide the essential framework for our solution. While we had and idea the who and the what, this brought up the quesiton of how it might fail and what specifically did we want to test.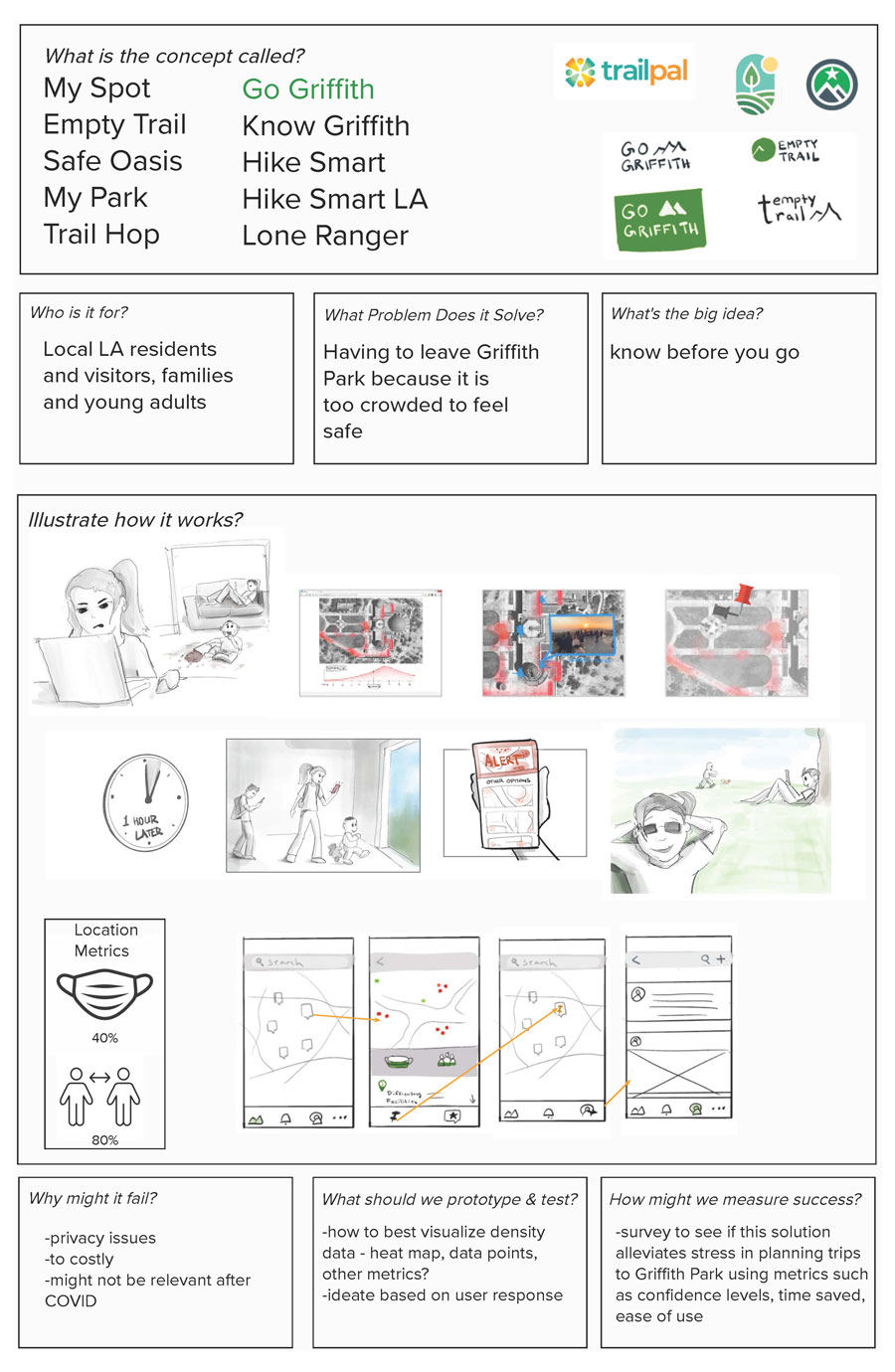 Specifically, we realized we wanted to better understand what types of crowd density visualizations make the most sense to people. In addition to our medium fidelty prototype, we ideated on a variety of ways to represent data from camera footage to data points to AR and 3D simulations. We incorporated these images into our prototype presentation with the intent of performing a guided survey with our classmates.
Download Visualization Survey
This process greatly highlighted how easy it can be to misinterpret information. Even within our team discussions we realized we had different understandings about how the visualizations worked. We resolved this by reducing the amount of visuals in question and including context with each image.